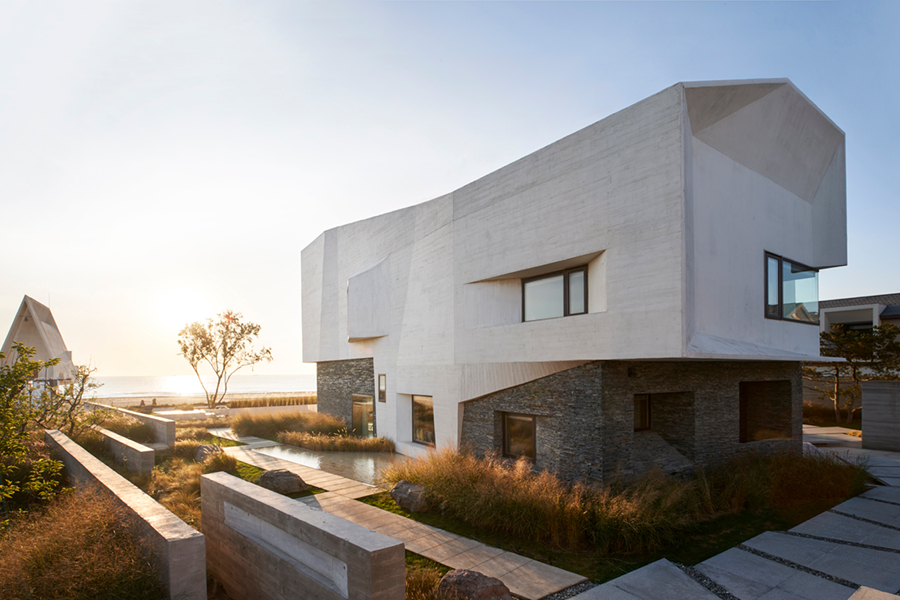 The existing on-site structure was reclaimed and altered to allow an open-plan for more living spaces. In a sustainable way, we re-create a new spatial experience that flows "through" the building.
The north façade is reconfigured with two volumes interlocking together: a thickened white T-shape cast-in-concrete wall sitting on a dark layered rock plinth. Local craftsmanship was adapted to realize the façade.
The House T is intended to create a series of dynamic spaces that defined by the spectrum of natural environment and communal life which characterizes the wonderful setting of the site.
| | |
| --- | --- |
| LOCATION | Aranya, Qinghuangdao, China |
| DATE | Design 2015/11-2017/5 Completion: 2018/8 |
| CLIENT | Aranya |
| PROGRAM | Residential,Recreational |
| AREA | 328.26㎡ |
| STATUS | Completed and occupied |
| DESIGN TEAM | Wang Shuo, Zhang Jing, Li Danlei, Yang Shangzhi, Cao Shibiao, Xue Xiaofei, Zhang Yue,Sun Qingfeng |
| STRUCTURE CONSULTANT | Liu Lichuan |
| LIGHTING CONSULTANT | Han Xiaowei |
| PHOTOGRAPHER | SONG YU MING, HIROMATSU MISAE / RUIJING PHOTOGRAPHY |