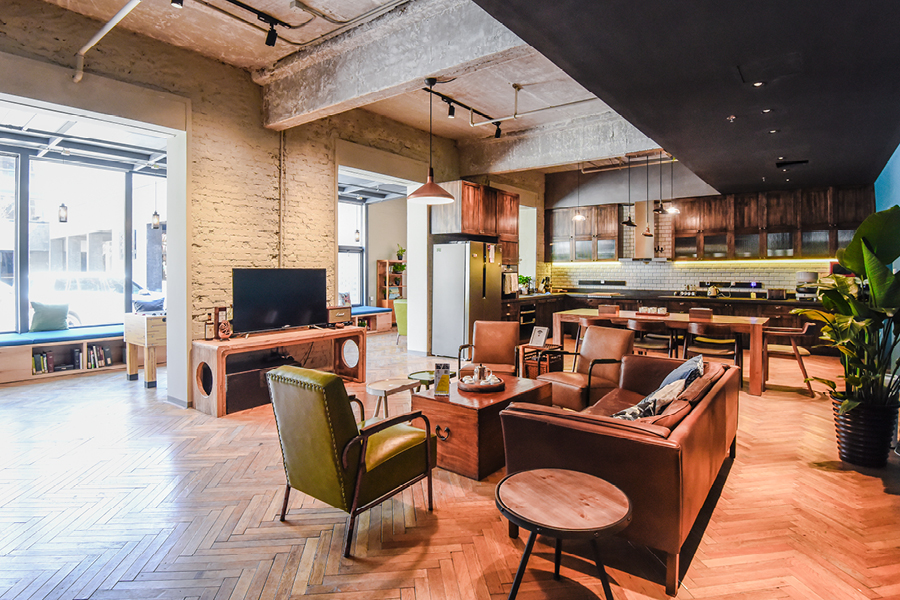 Yan Jing lane
Co-Living Space
"Yan Jing Lane", homophonic to "extended quietness" (in Chinese), is at the address of 20 Mid Yanjing Li St., Chaoyang District, Beijing. It is located on the East Fourth Ring Road, very close to several important areas in the centre of the city, convenient for resident of the community to reach these places Up to now, "Yan Jing Lane" includes an apartment (co-living) and an office building (co-working).
The apartment space contains 5 floors and 70 rooms, with a total space of about 2500m2. The architect designed a large living room for it that can accommodate dozens of people, and a large open kitchen.
This big house is divided by static and dynamic, inside and outside: on the first floor are the large living room and gym shared with the offices; on the second floor and above are the exclusive spaces for friends sharing the flat, with a convenience store "HAYMANSHOP" exclusive to residents, in order to ensure privacy of users while maintaining vitality of the area. In this big house, the bedrooms are fully furnished and divided into two main housing types: "SOLO" and "DUO". There are in-dependent bedrooms for one, and also shared spaces for 2 sisters. It meets all the basic needs of a person in a private space.
| | |
| --- | --- |
| Project Name | Yan Jing Lane |
| LOCATION | Beijing |
| DATE | Design 2016.8-10;Complete 2016/12 |
| CLIENT | Beijing YunChuang Yanjingli Property Management Ltd. |
| PROGRAM | Co-living |
| AREA | 2569㎡ |
| STATUS | Construction Complete |
| DESIGN TEAM | Wang Shuo,Zhang Jing, Xue Xiaofei,Li Danlei,Li Tianyu |
| LIGHTING CONSULTANT | Han Xiaowei |
| PHOTOGRAPH | Fang Chun, Chen Su |
| VI/LOGO Design | Sure Design |