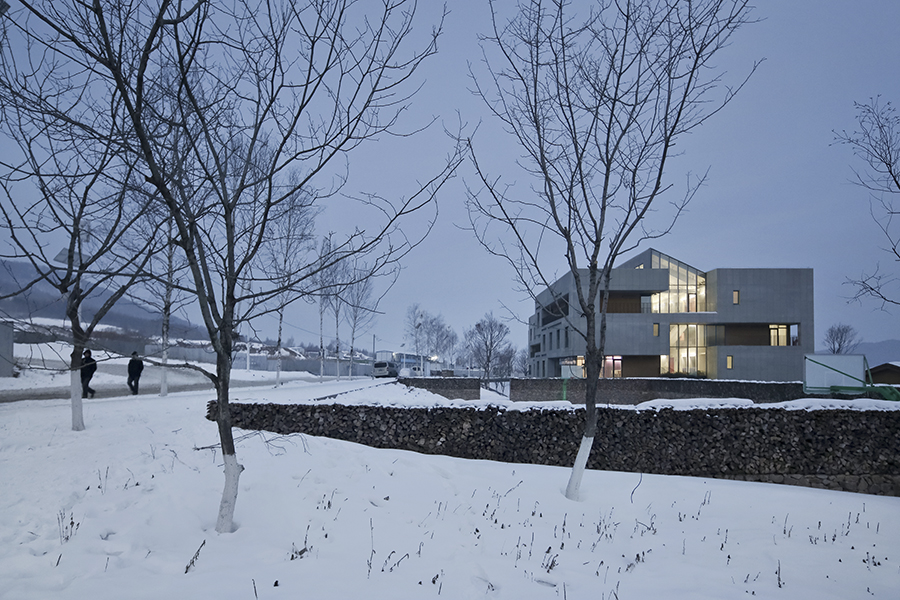 New Youth Commune (Interior)
multi-level public space
New Youth Commune, a mixed youth community, located on the edge of Vanke Songhua Lake Resort and bordering natural villages, contains 800 people with the upper space for Vanke staff, the middle rented to self-employed town people and the ground facilitating camping students while open to villagers.
Substantial studies of mixed dwelling phenomena since long peculiar to China, from hutong, tube-shaped apartments to village-in-city, help the architect comprehend the dynamics of youth communities and conduct a nuanced spatial grading according to living schedules and neighborhood relationship, finally arrive at a flexible logic of public space organization that redefines the 'dormitory' in a new, plural and socio-ecological way.
The corridor-rooms monotony is inflected into a quartet externally undulating and internally continuous. Each corner opens to natural sceneries and nourishes public activities: dining and kitchen, shared office and party terrace. Every quarter encircles a bright and draughty atrium with bridges, stairs and tiered seats composing an open-street-like continuous route inspiring encounters, chatting, working, dining and spending. Color and material take on the spatial signs and direction despite a limited cost. Thus, a simple and flexible framework combines spatial innovations with daily scenes, differentiating and articulating private, shared and collective zones and facilitates community growth.
Though already transited from a uniform collective era to the flexible plural, the residential typology remains narrow-minded, to which the architect responds powerfully: mutual cooperation and positive interaction with environment through inter-spatial sharing based on equality and self-sufficiency – the 'New Youth Commune'.
| | |
| --- | --- |
| Project Name | NEW YOUTH COMMUNE |
| LOCATION | Ji Lin,Songhua Lake |
| DATE | Design 2014/12;Complete 2015/12 |
| CLIENT | Vanke Songhua Lake Resort |
| PROGRAM | Mixed Residential Community |
| AREA | 10,000 sqm |
| STATUS | Construction Complete |
| DESIGN TEAM | Wang Shuo,Zhang Jing, Cao Shibiao, Lan Tian,Wu Yaping,Zhao Yu |
| LIGHTING CONSULTANT | Han Xiaowei |
| PHOTOGRAPH | Su Shengliang, Fang Chun, Chen Su, Cao Shibiao |