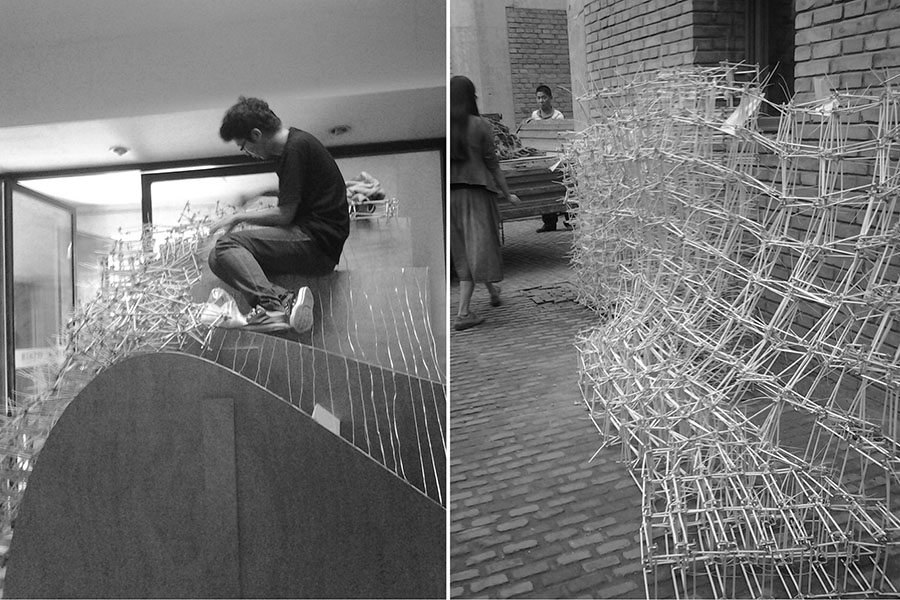 META-SCAPE Installation
recycled material installation
META-Project was invited to participate the AMI (Approporiate Mutate Innovate) exhibition during the Beijing Design Week 2013. The theme of the AMI exhibition was to showcase new designs, methods of fabrication and recycling or up cycling of commonly used and thrown away materials into designed objects.
As one of the submitted work for the AMI exhibition, META-SCAPE tries to extend the properties of the given material – chopsticks in a view of an architect. By using 2 types of knots, we developed multiple modules ranging from soft/flexible to hard/stable. The gradient in flexibility shaped the installation to the threshold between solid wall and soft arch.
META-SCAPE was exhibited at Cao Chang Di Art Zone during the Beijing Design Week 2013. After that, it was moved to our office in the Hutongs, and become part of the soft-SCAPE of the courtyard.
| | |
| --- | --- |
| LOCATION | Cao Chang Di District, Beijing |
| DATE | September, 2013 - October, 2013 |
| ORGANIZER | Beijing Design Week 2013 |
| DESIGN TEAM | Shuo Wang, Tian Lan, Xinxin Liu, Yin Cheng |
| PHOTOGRAPH | Su Chen, Chun Fang |